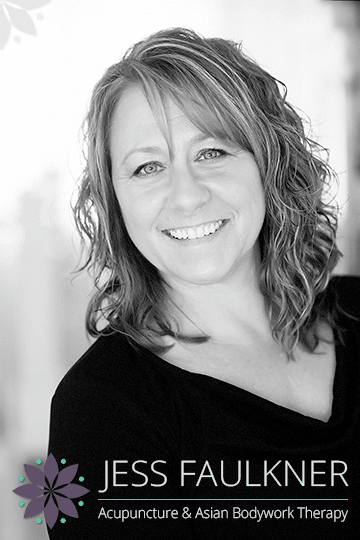 Jess Faulkner, L.Ac., LMT
Licensed Acupuncturist & Licensed Massage Therapist
I'm Jess & I am committed to helping others heal themselves and maintain a much greater quality of life. I am honored to support you on your journey to improved health and well-being through Chinese medicine & acupuncture.
My path to East Asian Medicine came through my experience with massage & bodywork. For over 20 years I have been studying and practicing massage therapy, but it was when I discovered Shiatsu (acupressure) and started incorporating it into bodywork sessions that I realized there was something very powerful about this Chinese Medicine that I was applying. I found that when I used acupressure in my deep tissue massage treatments the symptom relief my clients received increased and the positive effects were lasting longer. I then started practicing Shiatsu exclusively and continued to study other forms of Asian bodywork therapy. I recognized that becoming an acupuncturist and Chinese medicine practitioner was the natural next step for me.
I've cultivated a treatment style where I incorporate western and eastern bodywork into my Acupuncture practice to create a relaxing and restorative healing experience. I design each treatment around my patients' needs at the time of care and will integrate Asian bodywork therapy, trigger point therapy, cupping, gua sha, moxibustion, heat therapy &/or aromatherapy when applicable, creating a truly unique and comprehensive fusion of care.
Education
I attended the Baltimore School of Massage and graduated from the 500-hour massage therapy program in 1997. I later attended their 295-hour Shiatsu program where I learned the fundamentals of Chinese medicine. This program and its remarkable teachers inspired me to pursue a career in acupuncture & Chinese medicine. I earned a Master of Acupuncture from Jung Tao School of Classical Chinese Medicine, located in the beautiful Blue Ridge Mountains of North Carolina. This was a four-year graduate program of 2200 hours of in-class and clinical training which included extensive instruction in western bio-sciences as well as eastern philosophy, Chinese theory & clinical practice. Most recently I attended a 2 year Chinese Herbal Medicine program at WON Institute in Philadelphia, PA, where I learned the intricate art of herbal diagnosis & treatment. I continue my studies of all things Traditional Chinese & East Asian Medicine as well as other eastern practices such as yoga, meditation, tai chi, & qi gong. When I'm not being a Chinese medicine nerd, I enjoy being outdoors & soaking up nature.
Want to learn more?